You know what I like?  Rice-a-roni.  It was a favorite side dish in my house growing up, full of delicious flavor and giving off a warm, comfort food vibe.  That being said, you know what I don't like?  Chemicals.  Sadly, Rice-a-roni has ingredients in it that I cannot pronounce, which means I don't eat much of it these days.  Luckily, I stumbled upon a rice pilaf recipe from Martha Stewart that I adapted into a grown-up version of Rice-a-roni.  I'm sure Martha's version would be great as prepared, but she way overestimates the caliber of my cooking equipment.  An ovenproof saucepan?  Not in my Ikea world.  Anyway, my version is super easy to make and gets rave reviews every time I prepare it.  Hope you enjoy!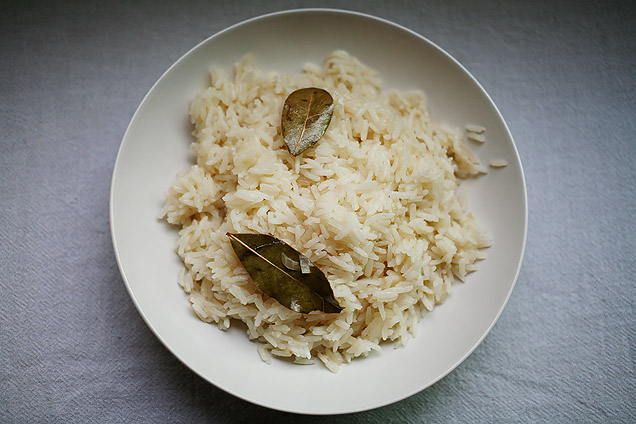 Ingredients
1 1/2 cups chicken stock
1 tablespoon butter
1/4 cup minced onion
1 small dried bay leaf
1/2 teaspoon salt
1 cup jasmine rice
Note: Cook in a saucepan with a lid.
Melt butter is saucepan over medium heat.  Add onion, bay leaf, and salt and cook until onion is soft and translucent, stirring occasionally (about 3 minutes).
Add rice and stir so some of the butter mixture coats every grain.  Cook until rice is starting to turn translucent.
Add stock and return to a simmer.
Cover the pan with the lid and cook for 15 minutes.  Don't lift the lid, as you'll lose all the wonderful steam in there.
Remove lid and fluff rice with a fork.
Help yourself to a serving of deliciousness.
More notes: You will see in my cooking photo that I doubled the recipe since I was making enough rice for a few nights.  Lastly, please excuse the condition of my stove.  I would blame it on the baby, but Ian claims she can't cook yet.