Though I'm usually pretty good at eating vegetables, it's easy for me to go about my day without touching them until I suddenly realize it's dinnertime.  By that point, a measly serving of veggies isn't looking substantial compared to the rest of my diet, and I've probably eaten more of the not-as-good-for-you things.  In an effort to include more vegetables, I'm aiming to eat them at two meals a day.  I've found that this little goal has been helpful for keeping my diet healthy, and when I sneak veggies into breakfast I'm already halfway there!
This breakfast of blistered green beans with eggs is one of my go-to's.  It's humble, comforting, and has only three ingredients (okay, 4 if you count cooking spray, which I don't).  More importantly, I'm getting healthy protein with the eggs and getting in a dose of green veggies.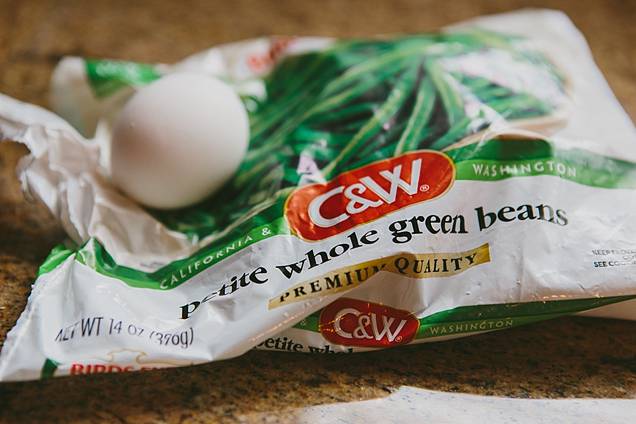 Ingredients
1 egg
2 handfuls frozen green beans (fresh would be great, too)
garlic salt, to taste
cooking spray
Set small skillet at medium heat.
Spray skillet with cooking spray and crack the egg into it.
Cook egg for a few minutes until whites are mostly set.  Flip egg and cook for another 30 seconds to set whites.  I like my yolks runny, but you could cook longer if you prefer the yolks set.
Meanwhile, boil water in small pot, then add green beans.
Cook for 2 minutes until beans are tender-crisp.
Drain green beans and return to pot.  Keep temperature on high.  Sprinkle beans with garlic salt and toss beans to coat.
Cook for one to two minutes until green beans are slightly blistered.
Turn everything onto a plate, sprinkle on some more garlic salt, and enjoy the egg yolk as a sauce for the beans.
When asparagus is in season, it would be a delicious swap for the green beans.  Shave a little Parmesan over top and call it a day.